What's in a Relationship?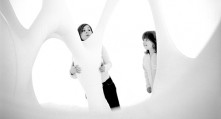 An Examination of Social Capital, Race, and Class in Mentoring Relationships
by S. Michael Gaddis, Department of Sociology, University of North Carolina
This research examines data from youths and mentors in several chapters of Big Brothers/Big Sisters to assess the importance of different mentoring relationship characteristics increasing positive outcomes among youths.
The literature on social capital suggests that key characteristics are: (1) the amount of time spent between individuals, (2) racial similarity,(3) level of trust, (4) social class difference, and (5) intergenerational closure.
Michael Gaddis examine the effects of these social capital measures on both academic and deviant behavioral outcomes and run estimations using propensity score weighting to address selection bias.
The results indicate that both the amount of time spent in a relationship and the level of trust consistently have positive effects for youths.
Click here to load down the paper
New research on benefits of mentoring in 2014
A new research in USA (with more than 73 independent mentoring programs): "Mentoring Effect: Young People's Perspectives on the Outcomes and Availability of Mentoring" showssignificant positive outcomes for those who had a mentor. They were more likely to aspire to attend and to enroll in college, more likely to report participating in sports and other extracurricular activities in their communities.
The report describes a series of paths forward that would lead to a society where all young people have access to a quality mentoring relationship and the support they need to succeed in school, work and life. The recommendations include strategies to:
Utilize mentoring to address national challenges.
Ensure that young people most in need have a quality mentoring relationship.
Expand local, state and federal public policies that advance quality mentoring.
Ensure all structured mentoring is quality mentoring.
Support and increase private sector engagement in mentoring.
Facilitate connections between research and practice.
Explore innovations to close the mentoring gap.
Read more about it here.