Network Meeting 2020
Last Network meeting was held in Malmö, Sweden the 24th of February – 25th of February 2020. It was also a celebration of The Networks 10th anniversary.
You will find the agenda on the page "Malmö 2020".
Here some PPT from the Network meeting:
Lars Lagergren PPT A study of Nightingale Mentoring in Malmö
Carina Sild Lönroth PPT about Mentor Training
Clara Artus PPT about Erasmus application

Minutes from The Network Meeting and The Nightingale 10th celebration. Malmö, Sweden 2020.
Minutes from The Network meeting in Bodö, Norway, 2018.

The Invitation

Welcome to Malmö!
SAVE THE DATE:
Monday the 24th of February – Tuesday the 25th of February 2020

You will have the opportunity to meet partners, share ideas, have experience exchange and learn – aiming to improve the general quality of mentoring.

We would also like our contact persons from different schools all around Europe, working in the Nightingale program, have the opportunity to meet and learn from each other.

This year The Network has decided to focus on Mentor Training and narrative stories will be presented Nattergalen, Oslo Norway.
We will of course also celebrate the Network 10th anniversary. But also the Nightingale Day the 24th of February.

Fee/cost: 100€ . Everything is included (lunch, coffees, celebration and dinner in the evening the 24th. Last day to register the 10th of January, 2020.
We also would like to welcome students as well contact-persons to participate in the Network meeting.

PROGRAM

Day 1 Monday the 24th of February

10.00 Swedish fika and Information

11.00- 11.30 Thesis presentation: Extra-curricular vocabulary training, by Helena Gischig, Zug, Switzerland

11.30- 12.15 A new research of Näktergalen Malmö, by Lars Lagergren, senior Lecturer, Malmö University

12.30 Lunch in the "Orkanen" restaurant

13.30- 13.45 EU application by Clara Artus, Serveisolidari.org, Nightingale Barcelona

13.45- 14.45 Mentor Training introduction, "Digital story telling session" by Oslo metropolitan University

15.00 Exhibition "Children´s right" at the Malmö University library
Celebration of The Nightingale Day

18.30 The Nightingale Network 10th anniversary buffé at Malmö town hall, hosted by Malmö municipality
Day 2 Tuesday the 25th of February

9.00-9.30 Information: new board, next conference and network meeting
09.30 Workshop: Experience exchange Mentor Training

10.30 Coffee break

11.00 Continued session

12.30 Lunch

13.30- 14.00 Summarizing /evaluation
WARM WELCOME!
Venue
Malmö University (Orkanen)
Nordenskiöldsgatan 10
211 19 Malmö
SWEDEN
Conference room OR:E239 (2nd floor)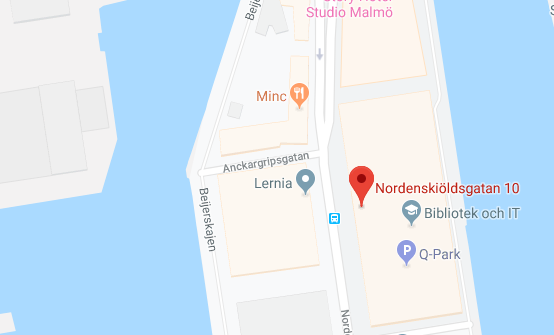 Accomodation
The following hotels are nearby the university:

Story Hotel Studio Malmö
First Hotel Jörgen Kock
Comfort Hotel Malmö
Clarion Hotel Malmö Live

Click here to find more hotels nearby on Google Maps.

If you'd like a cheaper option you can also stay at Rut & Ragnars.
Transport
The venue is just a short five minute walk from the Malmö Central Station.

If you'd like to take the bus to the venue, there's a bus stop right outside the entrance where bus number 3 and 5 stops. The bus station is called Malmö Orkanen.
https://www.skanetrafiken.se/
Registration
Please send the following details to naktergalen@mau.se:
Full name
City, Country
Allergies/food preferences
e-mailadress
Invoicing details