Dear Nightingale friends,
What a success.! Almost 30 participant at our first Zoominar the 24th of February – from Linz and Vienna in Austria, from Berlin, Germany, Zug in Switzerland, from Barcelona, Navarra and Girona in Spain, from different cities in Norway and from Karlstad and Malmö in Sweden. Thank you for doing this day, why not make it to a tradition!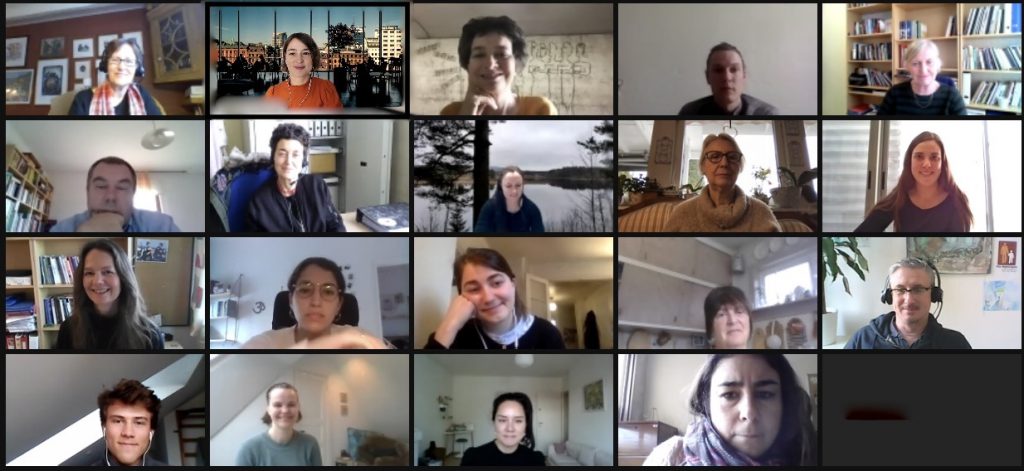 A resumé:
* The idea to take part in partners research and be able to meet again – nice and positive.
* The Covid has made everyone more creative and innovative. Handwriting letters have been used and outdoors activities have been more common.
* Digital media etc. have been used more frequently but the inequality is also visible with children without computers or access to internet.
The board will discuss another Zoominar focusing on Mentoring in a holistic perspective.

Here you can down load Liv Randi Rolands PPT
Here is Peters Stammerjohanns PPT
NEWS FROM PARTNERS
Unfortunately we have sad news from Sweden "Näktergalen Kristianstad" which Fredrika Braw has been running together with students for many years but has now come to its end.
I want to thank Fredrika for her great work, her passion and her compassion over the years. I truly wish her good luck in the future. I also want to thank all students and those working in the program over the years but also the mentors, children, parents/caregivers and the participating schools.
Fredrikas letter to you:
"This year certainly brought us challenges, even aside from the ongoing pandemic which did not even let us start our work this semester.
Unfortunately, for financial reasons, our co-partner
Kristianstad Municipality decided to cancel the Nightingale partnership. Kristianstad University started The Nightingale Mentoring Network as a project in 2005 with a lot of help and support from our Nightingale Lady, Carina Sild Lönroth. It has involved approximately 20 nightingale pairs every year since.
Last year we even had a former mentee as a mentor and even became our coordinator this year. She wanted to give the same joy and experience to a child which she once was given by her mentor. That was one of those magic moments that we had the possibility to experience in the Nightingale – the impact.

So, this is our last goodbye. I am very grateful for having had the privilege to meet so many wonderful people, students, and kids over the past six years. And for having the opportunity to be the manager of this truly great organization.
So, instead of working with the Nightingale mentor teams this semester, we had to prepare for the liquidation. It is kind of a sad feeling going through all the stuff which has been used over the past 16 years. Storing it, putting it in the archives together with a lot of good memories.
Just to make a little something for all the kids that had been waiting to start their journey together with the mentor, but could not because of the tough university restrictions, we arranged a digital goodbye party. They were invited for a quiz, with nice prizes for everyone. They also got to look at short videos with greetings from the intended students.
Also, we packed four full boxes with all the stuff being left from our former activities but was no longer needed because of the shutdown. The boxes were delivered by our caretaker, marked as treasure chests, containing pearls, paint, balloons, board games and all kinds of different crafts together with a smaller box of snacks, candy, and soda to enjoy at the party. They were hidden in various locations at the school and could only be found with a treasure map.
The kids know they can do whatever they like with the treasure chests. Perhaps they will pass it on to other kids that need it more. Perhaps it could be the beginning of a new project arranged by the kids themselves.

We hope to see them all at the university in a few years!
Take care and keep up the fantastic job that you are doing out there!"
All the best!
Fredrika Braw

Remember
Don´t forget to look into our pages: "Nightingale research and evaluation" or "Research about mentoring". They are often uploaded with new research and interesting reading about mentoring.

Best wishes to all.
You are doing a great work!